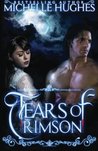 Tears of Crimson
by
Michelle Hughes
My rating:
5 of 5 stars
When I went into this book I was thinking New Orleans & vampires, it's going to have a Sookie Stackhouse type feel.
WRONG!!
While there's vampires and werewolves, the author put a unique little twist on them. You think you know? You have no idea.
Tears of Crimson
is the story of Cara & Rafe. She's seen him in her dreams since she was sixteen. Fast forward into the future where Cara is twenty one. She heads to New Orleans where her eyes are opened to a brand new world where she must pay a price to be with the man of her dreams or face death.
I loved how the story flowed form one page to the next with something always happening. It held my interest. I didn't want it to be over and I'm honestly excited to know there will be more in this fantabulous series.
View all my reviews